ARCHIVE
Saturday October 26, 2019
I have shirked my responsibilities updating our website but we've put out a couple of great albums this year. Death Talks released pretty much my favorite album by a friend ever back in May (Teen Beat) and Squints Palledorous returned with her first full-length in six years (Abduction). Coming up next week we have Eine Kleine China and his new album User Illusion II. In December we are putting out an EP called Four Seasons by Christof Bedé & The Pierce Kingans.
2020 will be a much more active year for us. I personally 100% promise that you will hear new material by all of your current favorites: Shame Spiral, The Pierce Kingans, Poor Baby, Sort of Damocles, Death Talks, Hurricane Ripped My Jacket, Wars and we will also be introducing to you your soon to be new favorites...Total Shock & Perfect Spaceship.
Saturday April 6, 2019
Our latest strategic label signing, The Pierce Kingans are putting out a great EP today, A Pierce of Cake online and on cassette. Check it out here. It's also available on Spotify and Apple Music and a bunch of streaming services no one has ever used.
We should have a few cool releases coming out later this year. Death Talks has an album in the can. Artwork is done too. I'm actually not sure why it hasn't been released yet. Poor Baby recorded an EP at Our Donkey Party that is basically done. Shame Spiral will most definitely be putting out a 20 minute full length album this year called Dictaphone Futurists featuring Russian Tim on lead vocals and a veritable who's who of people I know that rehearse in the same complex as us. Sort of Damocles will also maybe put out between 0 and 2 albums in 2019. Stay glued. :)
Monday July 23, 2018
I forgot to update the website last Friday, but Heavy Steps released a two song digital single, T.T.S. Waltz b/w Variations on Night Court. Download or stream it here. Despite being a single, both songs are essentially outcasts that I wanted to put out into the nothing rather than keep on a hard drive for eternity. They were recorded very slowly over seven years, which is basically embarrassing to admit. In any case, they are simply an appetizer while finishes up a full-length that will be out in August called Infinity Rope.
Friday June 15, 2018
Wars is finally back. Today we are releasing Huge Grant digitally on Bandcamp and your favorite streaming service. It is probably on your least favorite streaming service too. Download or stream it here. We recorded the album ourselves, Jordan Koop at The Noise Floor mixed and mastered it. 20 songs, 38 minutes. The tapes are literally in the mail, we will have them on the merch table at Poor Baby's album release show next Saturday at Wise Hall.
Friday June 1, 2018
Poor Baby have finally graced us with a proper album. A Personal Apocalypse is available today on Bandcamp, Spotify, Apple Music, Google Play, etc etc. Download or stream it here. As with Death Talks, tapes will be available in mid-June. The band has some specially made cassettes that they'll have with them when they perform at Vinyl Envy in Victoria next weekend.
Monday May 14, 2018
Andrew Candela's new project, Death Talks is releasing a 3 song EP today called Rock'n'Roll Machine on Bandcamp, Spotify, Apple Music, Google Play, etc etc. Download or stream the EP here. Tapes will be available in mid-June with a whole whack of other releases.
Friday April 20, 2018
Today we present to you Number Two by legendary Calgary youngsters Poo Thousand. Download or stream the demonstration here.
We have a lot of really good releases coming up soon. Wars got a recording grant and assembled a 20 song, 38 minute album with the funds. We'll have that out in June. Also on the docket are an EP and single for Death Talks, which is a new project by Andrew Candela, a full length by Poor Baby recorded and mixed by Jesse Gander, a full length and single by Heavy Steps and a full length by Sort of Damocles w/ Sentimental Jug Band. Stay tuned, things are really gonna happen this year. ;)
We started twitter and instagram pages, mainly just to fulfill the part of Wars' grant contract which requires 5 social media shout outs. Look us up!
Friday October 20, 2017
Finally we bring you Demonstration III: Mouthsore by the grandiose Shame Spiral. Download or stream the album here.
The Shame Spiral tape sets are nearly assembled, they will be available next week and I'll make a post about them then.
Friday June 2, 2017
Another week, another release...barely. Check out Demonstration IV: Drive Home Live At Red Cat by the illustrious Shame Spiral. Download or stream the album here. Eventually, Demonstration III will be done and we will have the super special limited edition 4 cassette boxset of Shame Spiral's collected works. Try to remain calm.
Friday May 26, 2017
Today we are releasing possibly the world's first "Instrumental Sketch Comedy Album", Icon of an Orange Juice Container by known associate / affiliate Cameron MacLeod. Download or stream the album here. We only made 12 tapes so if you want one, drop me a line or go to Cam's solo comedy show at The China Cloud 9:00 PM Tuesday May 30.
Charles is now in possession of the Eine Kleine China cassettes, get them while they're hot.
ALSO...most of our releases will soon be available on Spotify, Apple Music, blah blah blah, pretty much everywhere. Eine Kleine China has already appeared and a whole bunch more should be up by next week.
Friday April 21, 2017
It is new release day at the Boat Dreams From The Hill compound. Feels Industry by Calgary upstart Eine Kleine China can be streamed or downloaded here. Obviously I'm biased, but I think it's a fantastic collection of delirious beats, synths, loops and guitar made by Charles Gunn, an old and dear friend of mine. Tapes will be available next week, so satiate yourself with the digital version and we will brace ourselves for the tape order inundation.
We still have a bunch of stuff in the pipeline, just experiencing a bottle neck due to life, man.
Friday March 10, 2017
We have returned from an endless winter, snow still on the ground. Easing back into putting stuff out, today we happily present By A Landslide, a two song EP by Poor Baby. Take a listen here. The tracks were recorded last year by local greats Felix Fung and Malcolm Jack and mastered by me early this morning before I started work. The band has recording time booked soon so more is forthcoming.
I have been beset by tape deck failures and it has severely hampered my tape making abilities. I'm down to one deck that only works for about 40 minutes a day so dubbing has been a slow process. Outstanding orders for The Subterranean Satellite Band are going out Monday of next week and we'll have stuff by Sort Of Damocles and Candela Farm in at least one store and online later this month.
We have a bunch of releases lined up for imminent release. Probably next will be Feels Industry, the debut C20 by my old and dear friend Eine Kleine China. It's a real special bedroom dance music affair. More will follow after that but I'll save the name dropping for when I know what's coming when!
Friday October 21, 2016
Brainwaves by The Subterranean Satellite Band is our third release out this month. Peep it here. We recorded the album over the course of probably almost two years, slowly piecing together the songs during fairly infrequent weekend sessions at my practise space / studio. Simon returned to Ireland with a few weeks notice so we hurriedly completed tracking last winter and I mixed the tracks shortly afterwards. When nothing seemed to be happening with the album, I suggested we put it out on Boat Dreams and the rest is now history / present time.
I'm still not sure what we'll be releasing next week. We have several releases almost ready to go so I guess we'll just see what is the simplest to bang out. Hopefully it'll be the new Poo Thousand demo but most likely it'll be Shame Spiral's Demo IV.
Friday October 14, 2016
Dieuxieme by Candela Farm is our second release out this month. Take a listen here. The EP was recorded by trusty East Van mainstays Felix Fung and Malcolm Biddle at their respective respected studios and mastered by my very favourite audio engineer, Jordan Koop at The Noise Floor. Ryan Wagner provided the artwork and layout. Nice work all around by everyone involved.
Check back next week for The Subterranean Satellite Band's Brainwaves, a project we've put many days and nights and hours into over the past few years. It will feel so nice to have it out in the world.
Friday October 7, 2016
When I Die Throw Me In The Garbage by Sort of Damocles is now available on Bandcamp. Take a listen here. I recorded it mostly at home in the last several months, but not exclusively.
Like last year, we are hoping to put something out every Friday in October. Stay tuned for a new EP by Candela Farm, a full-length by The Subterranean Satellite Band and...I'm not sure what the fourth release will be yet.
In November we'll have a bunch of new tapes ready to go so keep refreshing this page to make sure you don't miss out on our highly collectible merchandise.
Friday July 15, 2016
Today we are offering up We're Dead, a posthumous effort by Get Over It. The mini LP is up now at bandcamp. Recorded by Stu McKillop at Rain City Recorders in November 2015, this is a major step up in fidelity from most of the other stuff we release.
Friday May 27, 2016
We've been characteristically lax about updates but I had to stay up late tonight to make sure I got the site in Precise Modern Lovers Order for the release of Demonstration II by Shame Spiral. It is up now and you can stream or download it at bandcamp here. Demonstration I is not quite complete but there will be a one-time performance of Demonstration II for Music Waste on June 4th at Red Cat Records (4:45 PM sharp) and we wanted to put the EP online ahead of time. Tapes will be available at the show and we'll put what's left over online.
I didn't get around to updating the site but we also put out a tape back in March for Sort of Damocles called Goat Prayer / Life Is Shit. The cassette is sold out but you can stream or download the album at bandcamp here.
Several releases are at various stages of completion but we'll have to see when we actually finish them off. On deck are a new tape by Candela Farm, two albums by Sort of Damocles (one will be accompanied by a zine), two (but hopefully three) more demos by Shame Spiral, a second demo by Poo Thousand, two albums by Wars, a demo by Angel Shit, an album by Heavy Steps and stuff by new projects called Garbage Gang Gang and Perfect Starship, not to mention an as-yet unnamed Dub collaboration with fellow musical mystical journeyman Stevie Moonboots of The Orange Kyte and Strange Things.
Monday December 7, 2015
Psych! We have one last release for you this year after all. Ryan spent last week working out of town and recorded two songs that he is calling the Rutland EP. Head on over here to grab it. He also made videos for the two songs, the first of which is here, the second one will probably show up on YouTube later this week.
Thanks for coming by, make sure to check back often in 2016 because we'll have lots of stuff for you!
Friday November 27, 2015
The full-band iteration of Poor Baby is back with three songs they recorded this summer during a weekend-long BBQ at Malcolm's studio behind The Lido. The EP is called I Want To Leave and can be downloaded on bandcamp here.
I think it's unlikely that we'll be doing anything else this year. We managed to put out 8 releases in 2015 but we should have a lot more for you next year from Sort Of Damocles, Shame Spiral, Poor Baby, Heavy Steps, Wars, Hurricane Ripped My Jacket, Angel Shit and more. Thanks for stopping by and for checking out anything we've released.
Friday October 30, 2015
We are putting up our fifth release of the month today, Choice Nugz by Too High Crew. It is a 16 song collection made up of stuff we've been picking away at for the last two years. We are up to 88 tracks now for the group and celebrated by remixing the 1988 Calgary Olympic theme song.
Keep checking back, we should have a new release ready to go in a couple of weeks.
Friday October 23, 2015
Today Poo Thousand is gifting the world with Winning The Poo, our first demo tape. The band is composed of my nephews and me. We spent a half hour one night in August improvising and freaking out based on song titles they came prepared with and then overdubbed some backup vocals and shot a music video a few days later. Peep that video here. In between, we had another recording session / live performance for my sister and mom that we may also make available one day on account of a new triptych of songs ("Moms Fart Too" / "Dads Fart A Lot" / "The Family Fart") that would be unfair to withhold.
We made some tapes in very limited supply. My nephews designed the covers and wrote everything out, I laid it all out and got the covers printed at Staples. The cardstock is much nicer than any we've used before and hopefully we'll be using it from now on. If you want a copy, hit me up. They're $6 plus shipping.
Thanks for visiting our site. We will have a new release available next Friday as well. After that we'll probably need a week or two but we'll have some new stuff ready to go before the end of the year.
Friday October 9, 2015
The split live album for Babe Patrol and Slim Fathers is out now on cassette and as a free digital download here.
Babe Patrol only played the one show documented on this tape. Jason Sulyma asked Baby Control to play at Glory Days but we couldn't get our stuff together so instead we worked out our new songs with Gregory Adams singing and played the show under a different name. After that one-off, we gave those same songs and a few more to Courtney and Tom to record vocals and bass over top and we released them as Slim Father's first album, Old Fruit. We played around Vancouver for a couple of years and the show documented here is the last one that we played. I thought it would be cool to record it so that we could do this split tape, bookending our time spent on the projects that came out of our failed attempt at making a second Baby Control album.
Friday October 2, 2015
Today we are releasing the Baby Control discography on cassette and as a free digital download here. Jordan Koop remastered the tracks so they sound as good as they ever will, which is still admittedly not that good. We have seven copies of the tape left so if you want a copy, hit me up.
We have a bunch more releases lined up before the end of the year so please check back often, we promise not to let you down. Check out the release page for a partial list of what we have planned.
Sunday April 7, 2015
Life got in the way and will continue to for the next 18-20 years but I've found a few moments to update the website. There is a new Poor Baby EP up on the release page, What Kind Of Parrot Dies? featuring Melissa (from Heavy Steps) on vocals and a drum machine instead of Ryan's customary blown out drum pile.
In a few days we will be releasing Forbidden T-Shirt by The Greater Wall, a five song offering recorded at our practise space / recording studio Our Donkey Party. In a couple of months we plan to release a remastered discography for the band, featuring both of our EPs, a couple of cover songs and maybe some aborted tracks.
On April 15, we will finally be releasing FaceTime: Return To Mushroom Island, We Will Smoke Again, the hardcore album by Wars that was recorded over two practises in December of 2012. The last two + years were spent either not working on it or doing the vocals, which turned out to be a very difficult task and landed me in the doctor's office twice. It was worth it though, the album rips.
Monday November 10, 2014
Later this month, we will be releasing a cassette EP called DADF#AD by Candela Farm. Recorded at Little Red Sounds by Felix Fung and mastered by Jordan Koop at the Noise Floor, the EP comes on black pro-dubbed tapes with pad printing and full color artwork. A quality release in a limitation of 50. The band will be playing a tape release show on November 20 at The Lido. We'll be hawking all of our tape releases at the show, see you there!
Since our last update, Poor Baby has quietly put out two new digital releases. Mime Control came out in September and is made up of four songs Ryan recorded at his apartment by himself. There Will Be Bleed came out in October and features the full seven person live line-up of the band playing new versions of three songs from previous EPs.
Lastly, The Wars hardcore album is very, very close to being done. We will notify the eager masses the moment it "drops".
Wednesday July 23, 2014
Next week we are putting out two new tapes, Trash Object by Heavy Steps and Goldie Hawn In The Blue Light by Slim Fathers, both are follow ups to releases from 2012. The new stuff will be up Tuesday for free download via bandcamp and the tapes will be at the Slim Fathers show with Sightlines at The Biltmore. Courtney's moving to Montreal for school in August so this is our only planned show, I'm ambitiously hoping to record it on a 4-track for a live album.
In other news, Ryan has assembled a live band of exclusively sweet peeps for Poor Baby and their first show will be September 6 at The Lido. He also has two more EPs that we're leisurely preparing for release at some point in the near future. I'm biding my time by finally getting around to finishing the Wars hardcore album (as Spooky Boys) as well as working on the next proper Wars album, both of which I hope hope hope will be out by the end of the year. We'll also be putting up a couple of outtakes from Wars' first album as a crappy little digital single in the next couple of weeks. Please eagerly await the arrival of Camo Pants, Why? b/w Blue & Black Sheep.
Friday May 9, 2014
Today we are putting out Palace Of Cold by Hurricane Ripped My Jacket, our first drone / black metal project. We have dubbed some tapes and made sorta cool covers on silver paper, if they're not yet at Red Cat and Neptoon, they will be as soon as Ryan works up the energy to drop them off. A download can be had here.
Earlier this week, we released a new Too High Crew mixtape called Roaches: Uncollected Traxxx From EPs & Shit. As you might be able to guess, it is a collection of songs not yet collected on the other four full-length mixtapes we've put out. Stream it here. We are also attempting to stream a new song a week for 16 weeks. We've lasted a full five weeks but it's doubtful we'll make the deadline for next week's song. Cross your fingers and check out our Soundcloud!
Last month, we released Saga Genesis, the first EP from Poor Baby. Next week, we'll be releasing a second EP titled Sanctuary Much and in June we will put up a third EP called Mime Control. Check here for streams / downloads, we'll figure out how to best present the songs on cassette later.
Monday March 17, 2014
Today we are putting out Whatever, Feels Real, a tape by The Greater Wall. Home dubbed (in real time on my new Awai F990 cassette deck) on white tapes with photocopied covers in an undisclosed limitation. We'll put them up on storenvy and in the local shops later this week, but we'll have some tonight at The Media Club for the release show (w/ War Baby and Failing) and a download can be had over here.
Monday February 17, 2014
Yo dudes! We have a bunch of stuff coming out soon from all of your current and soon-to-be favorite groups (mom). We'll get the ball rolling next month with Whatever, Feels Good, a 6 song demonstration cassette by The Greater Wall, and Part-Time Limerence by Poor Baby, the first of 3 EPs for Ryry's new verbed-out-apartment-scuzz-rock project.
I will be sure to tell you about some other stuff later, but for now you can check out our new facebook page here.
Thanks for coming to our site instead of working or spending time with a loved one.
Wednesday October 30, 2013
Hello no one, we are back! For over a year, updating our website took a back seat to literally everything else in the entire world but I have had congress with the most basic of HTML once again. Allow me to brief you on the results:
(1) Our release page has been updated to include everything we've put out and it can all be downloaded for free.
(2) We now have an online store. We made new tape releases of You, Conduit by Heavy Steps, Neville Say Never and Pacey From Mighty Ducks by Wars, Welcome To Fraser Street by Too High Crew, and The Great Bambino by our newest compatriot, Squints Palledorous. All are available now in a limitation of 50 pad printed tapes, professionally produced with full colour jcards. We'll bring a couple of copies to Red Cat and Audiopile (if they'll take them) for the official release date, November 19.
(3) We've added some new stuff to the Downloads page (Slim Fathers, Baby Control, Got To Get Got, Isolated Logic, Crimson Grind) and arranged everything sorta chronologically. There's still a bunch more stuff we'll get up there so keep checking back if old, ineptly played (and recorded) music is your bag.
(4) The Links page has been updated to include a few more of the active bands from (ahem) our roster and the people who have contributed their (usually artistic) talents to stuff we've been a part of.
Thanks for visiting, hopefully we'll be doing things more often than usual but you know how it goes. Write to us here if you feel like you have a reason to.
Friday June 15, 2012
Welp, repeated viewings of Winning Time: Reggie Miller vs. The New York Knicks can only result in one thing: a John Starks obsession. Too High Crew all caught the bug and now we bring you Did Dis Dude Juss Did Dis?, named after the choicest quip by the only Starks that matters. Heck, the only John that matters (regards to Messrs. Hancock, Lennon, De Courcy, Kennedy, etc. etc.). Even though Too High Crew has yet to win anything (or even be nominated for the Polaris long list), this mixtape is basically a victory lap. The only thing in the way of Too High Crew and the type of fame consisting mostly of hurtful comments from hordes of 14 year olds on youtube is this crappy-ass label. Sorry, Too High Crew.
Next week is Sled Island in Calgary, Too High Crew will be playing the only shows that matter. Here is some vague yet still informative information:
THURSDAY, JUNE 21 @ A FUCKIN' POOL PARTY (6:30PM)
THURSDAY, JUNE 21 @ TUBBY DOG (11PM-12AM)
FRIDAY, JUNE 22 @ BEATROUTE OFFICE (LAAAATE)
Chrissy's 4 year old nephew will likely be splashing around at the pool party with a variety of Transformers toys, in case you needed any other reason to show up.
Completely by accident, Chrissy & Ryry celebrated the one year anniversary of Two Birds, Both Stoned by sneaking out a two song single a couple of weeks ago, Love Jay Bone. It was so inconsequential that I didn't even bother updating the site for it but if anyone wants to check it out, go no further than here.
In other news, Wars didn't make the Polaris long list. It seemed like a sure thing. They'll try again to reach the upper echelons of Canadian music with their next record. Is there any other reason to play music?
See you at Sled Island, if we accidentally gaze in your general direction.
Sunday May 27, 2012
Finally, after months of eager anticipation by lesser mother fuckers up and down Fraser St (and Jay Bone a bit closer to Main St), Too High Crew is finally unveiling Weird To Your Mother. 15 tracks, 15 contributors, most the whole crew shows up at least once. A zine is also included with the mixtape that features lyrics, drawings and other arguable pieces of recycling left behind after hangouts on the comfy couch at Chrissy's crib. Get it now here.
In other news, Too High Crew will be releasing another mixtape in time for their performance at Sled Island in Calgary June 22nd. The next one will be called Did Dis Dude Juss Did Dis. Expect John Starks on the cover and another 15 songs, 13-15 of which will be your new all-time favorites.
In other other news, Heavy Steps is actually getting a few downloads! Thanks to everyone for listening. Miss Black America is slowly selling out thanks to hardcore nerds nationwide but we're still at least 6 years off from a reunion show and a possible repress. Lastly, we'll find out if Wars is nominated for the Polaris Prize June 14th. Everyone cross your fingers and pray to our favorite strain of weed, God.
Wednesday February 22, 2012
As all of our loyal readers no doubt assumed, the Miss Black America records have been flying off the shelves like the books at the beginning of the first Ghostbusters movie. Get it while you can and contribute to the kickstarter campaign to get us motivated to reunite for a second show and double album. Only another $300,000 to go and our goal will be met. Full disclosure: $8000 of that will go towards obtaining a first printing of Do Androids Dream Of Electric Sheep, which you'll be welcome to come over and look at from several yards away.
We received the master for You, Conduit by Heavy Steps Tuesday afternoon and since the internet is so damn fancy, we already have it up for sale. If we sell a few and figure out how to do something resembling a live show, it's not out of the realm of possibility that we'll make records out of this one too. For now, make the digital booklet as big as your screen and try to decode the secret creepy answers to the universe we've hidden in the artwork.
Wednesday February 1, 2012
Today is, of course, Boulevardier's birthday. He's still young enough. Glenn and I took some Miss Black America records around. You can now get them at the following places:
Vancouver: Red Cat Records, Neptoon Records, Zulu Records and Audiopile.
Calgary: Sloth Records, Melodiya Records and Revolution Winter Distro.
Lethbridge: Blueprint Records.
Let us know if you need directions to any of these places. And also if you want a couple copies for your own store.
Monday January 30, 2012
Well, since the last post we decided to do a "live album" for Wars, The Unterrible Brightness of Leaning. I set up my trusty Zoom recorder close to the stage on a mic stand put up about as high as Cody could recommend and a classic was born that's somewhere in between Wings Over America, Live At The Whisky and at Budokan. "Loose" would be a nice way of describing it. And "fuggin amazing" would be another nice thing to say about it too if you feel the need. Two songs from Wars' first show are thrown in at the end just to hear the remarkable progression 6 months and 2 shows can make. Hear for yourself here.
I honed my skills as photoshop ruler (that's an actual thing, look it up) and made a digital booklet with a couple of camera photos and some credits. We'll definitely be making more digital booklets for other new stuff because it's lots of fun. If the .pdf is screwed up when you download, please email me here.
The art from friends is coming, honest. Just sorting out some kinks with their agents and lawyers.
Wednesday January 25, 2012
The anticipation of writing a bunch of stuff through trial and (multiple) error(s) in html code (if that's what it's called) finally became too much to bare so it's time for the quarterly update of the most famous website in existence, this one. Thank you for your patience and emails and all the hand-written letters, which I admit surprised me to receive in such vast quantities. Replies are forthcoming for those that provided SASE and netflix.ca monthly trials. We're still accepting resumes for anyone wanting to work in the mailroom.
The Miss Black America records came in a little while ago but obstacles and mostly laziness had to be overcome before we decided to officially acknowledge the boxes at the jam space for the second time on this very website. The record's already a hit in places as remote as Halifax, NS and pictures are showing up on more than a couple nerd's instagram feeds. Local reaction has been a tad lukewarm, one reviewer generously calling it "noisy, ugly and annoying" and a "greatly unpleasant listening experience" (James Olson, esq). The word "memorable" has been bandied about at least once, though regrettably after "slightly" (James Olson, esq). Like that lucky writer, you can get one yourself from our store, bandcamp and finer purveyors of "strangled shrieking with the occasional gargled line of lyrics" (James Olson, esq). For now, that list is Audiopile in Vancouver, Meoldiya and Sloth in Calgary and wherever Jim put it in Halifax. Soon (I promise), I will walk up the street and take some copies to Red Cat. I might even drive and take some to Zulu.
Our next release, You, Conduit by Heavy Steps, will be coming out shortly. I sent it to be mastered last night and we've already finished the art work, so as long as I don't fall into another malaise coma it will be on here in a few weeks. That means there's a 20% chance you'll see it online before August 2012. The album was mostly recorded over the last couple of years with everyone's fan favorites from almost every great band at our jam space and we threw some stuff from as far back as the year 2000 just because it sounds funny that THE YEAR 2000 is now pretty much the unrecognizable past.
The release following Heavy Steps has already been online for close to eight months, Pacey From Mighty Ducks by Wars. I hesitated putting it on here because Chase from Wars knows some guys that were in Billboard magazine so we figured that it would probably come out on Epic or at the very least Drive-Thru but we've accepted our fate as 1st band on a 5 band bill for the three shows we will play a year from now to eternity (December 21, 2012) so I'm just gonna call it an official Boat Dreams release. This, of course, is a strategic plan because we're currently casually making up lyrics and vocals for Wars' second album, Neville Say Never, which was recorded in December with Jordan at The Noise Floor in Ladysmith, BC. It was, unsurprisingly, a brilliant weekend. There are between 8 and 16 useable songs that will comprise Neville Say Never and it's safe to say The Georgia Straight's gonna be all up on us for the next forever once it gets out, which will hopefully be in April.
The art from our friends will be posted soon. Honest. I'm so confident that I fully intend to delete this paragraph and add another long thingy about that stuff within the next two days.
Friday October 28, 2011
Surprise! Too High Crew's playing a Halloween show at The Electric Owl in Vancouver (duh) TONIGHT and to celebrate, we've put together a 6 song EP called Rolling Stoned. 5 songs from the upcoming Weird To Your Mother mixtape and a live song that is so incredible, it is completely unlistenable. You're welcome. Come to the show or just put this on in your car (or the boombox you carry around on the bus) and light shit up.
The Miss Black America records have arrived! We'll be putting everything together and mailing out pre-orders next week. They look and sound amazing, emo violence may die but it can always be resuscitated for at least a week at a time.
We'll be putting up a whole bunch of art by our friends on the site shortly, stay tuned for that as pretty much every important artist ever (minus a couple) will be showcased.
Friday August 12, 2011
We weren't lying about the record! We'll be doing a 1-sided, 45 rpm, 180 gram, 10 song LP with silk screened covers by Miss Black America (Featuring members of NORTH OF AMERICA and DBS and DRY FLIES and SLOW KIDS PLAYING FAST and DANNY H. CHRIST HIMSELF, but no one from NIRVANA or PORTRAITS OF PAST). 200 copies will be pressed, everything has been sent off so we just have to wait for it to all come together. The band broke up after a pretty decent week of being together so this is all we'll have until the band likely reforms to play a reunion/record release show. You can download the mp3 album now (featuring a bonus track) or pre-order the LP (with an instant download) at the freshly minted "Music For Free And Sale" tab to your left. You can also go here if you don't trust my awesome internet skills.
Don't forget to download the Chrissy & Ryry mixtape, Two Birds, Both Stoned and the new Too High Crew EP One Hoot Wonder. Summer is nearly over even though it started approximately 1 week ago and these jams work best in heat. Already one person in Edmonton is obsessed with Chrissy, Ryry and the other 19 baddest mother fuckers in a 10 block radius of Fraser St.
That's all for now. Buy shit so we can put out more shit, ok?
Friday July 29, 2011
Yesterday we decided to put out a Too High Crew EP. Today, it is available! One Hoot Wonder is 4 songs featuring (in order of appearance) Chrissy, Ryry, Pussy Pete, Kitchen Saank, The Dooouge, T3P0, K-Lo, Bernasty and Highchair Shorty, with artwork courtesy of Brodie Michaels. Two of the songs will appear on Too High Crew's upcoming mixtape, Weird To Your Mother, but in the meantime the thousands that flock to this site daily can listen to these four songs for the remainder of the summer. The EP is coming out to hype a show tomorrow (on a friggin BOAT) for Neverland, likely the greatest Michael Jackson cover band in HIStory. Chrissy & Ryry will be performing "Somebody's Watching Me" with them but if this is the first you're hearing about it, tough luck because tickets sold out about 12 hours ago.
In other news, we will be putting out an honest-to-goodness record in the next few months for a band called Miss Black America, featuring members of North of America, The Corta Vita, Baby Control, The Red Light Sting, Sharp Teeth and Too High Crew. The record is currently being mastered so expect a 10 song, 1 sided LP soon. We'll have more info on that one when we're not preparing to RAP ON A BOAT.
Tuesday May 31, 2011
Wut up! We are back from the semi-dead to bring you a free mixtape from our new rap project, Chrissy & Ryry. You can download the tape by clicking here. Chrissy & Ryry, obviously, are part of Too High Crew, Vancouver's baddest and likely biggest rap crew (we're talking numbers, not muscles). "Like" the crew's Facebook page here to stay in the loop for all things THC.
After you download Chrissy & Ryry's mixtape and memorize every single lyric, come see their debut performance at China Cloud (524 Main St) for Music Waste June 2nd at 10:00PM. Most the whole crew will be there and it will likely be the greatest rap show anyone involved has ever played in.
Coming up in the not-too-distant future we will be releasing a full Too High Crew mixtape featuring all 21 members. Shortly after that will be Chrissy & Ryry's full-length that we'll try to actually sell but you'll be able to find it for free if you type "Chrissy Ryry mediafire" into google.
In other, non-rap related, news: we are still busying ourselves preparing releases for Hurricane Ripped My Jacket and Odd Spell. Baby Control is still promising to finish the follow-up to 2007's Best War (still available from Ache Records). Do not worry, they are not going over every little detail with a fine tooth comb, the new record has just been sitting dormant for three years.
That's it for now!
Saturday May 8, 2010
We just posted the mythical 2005 _Babies_ EP by Baby Control in the Free Store. It would have been a great little record, I'm not sure exactly why the band never made any copies of it or even showed it to any of their friends. Regardless, we have it now and look forward to hanging the commemorative platinum MP3 plaque on our wall once a million people download the EP. That will actually happen, right?
Saturday May 21, 2010
Hi everyone! We have been very busy at The Boat Dreams factory, namely sprucing up our Free Store. We've put up new downloads for The Buzzing Bees, The Corta Vita, Fornix, Gilligan Starship and Slow Kids Playing Fast. We're most excited about Fornix and Gilligan Starship as both are newer projects from good pals that have never been previously available anywhere. The Buzzing Bees 7" that we put up is fairly questionable but for some reason people actually seem to be downloading it, The Corta Vita's EP is once again available on the internet after a few years absence and the Slow Kids Playing Fast tapes now up for download aren't half-bad representations of Calgary's All-Ages scene in the late 1990's.
In other news, we have so far sold 0 copies of Animal Names' Let It Been, including Itunes. Haha. The band patched up their differences in anticipation of being lovingly welcomed back into the world that they so recently left but realized their true place in the universe is actually "nowhere" and now the members are finding their own individual paths towards oblivion. Just joking about the patching-things-up bit.
Stay tuned for more Free Store additions and maybe an honest-to-goodness actual release soon.
Saturday May 8, 2010
We just posted the mythical 2005 _Babies_ EP by Baby Control in the Free Store. It would have been a great little record, I'm not sure exactly why the band never made any copies of it or even showed it to any of their friends. Regardless, we have it now and look forward to hanging the commemorative platinum MP3 plaque on our wall once a million people download the EP. That will actually happen, right?
Tuesday May 4, 2010
Happy Star Wars day! I know most of you will find it hard to believe that only 46 days have passed since we made the gigantic announcement that Animal Names would be releasing _Let It Been_, their swan song. And I also know a few of you quit your jobs (assuming you all had jobs at some point) and started vigils outside of the Media Club, hoping in vain that the band would all show up there one night for a beer or at least to park their cars for free en route to Canucks games and that you'd be able to convince them to keep things going or at least show them your anguish with cries of "Say it ain't so!". The band appreciates the concern and a statement has been prepared by their lawyer/spiritual advisor: "Please quit blocking the door at the Media Club. Love Animal Names".
Anyhow, _Let It Been_ is now available on itunes and also in the Real Store on this very site, for $3.49 less than you'll find anywhere else (unless you shop on blogs or torrent sites or mediafire, in which case you've found a better deal). We souped up the store and took a page out of amazon.com's book, adding a Shopping Cart function just like they did in good old 1995.
The release parties/wakes are currently underway in all the world's major centres (Vancouver, Bangkok and the entire state of Arizona) in memory of Animal Names and in celebration of their new album but we're taking the festivities all the way to the internet here. To mark today's special occasion, we've introduced a new section to the site: a Free Store. To start things off, we are offering a 14 song collection of demos and practise recordings that led to _Let It Been_. Though perhaps not for everyone, those camped out at the Media Club and already cried out in Bangkok should be stoked. We've also put up two albums by The Buzzing Bees, a group that went on to become a lawyer, a doctor of math, a masters in music student and Chris from Animal Names. We all have different paths, ok? Please check back regularly for new additions to the Free Store, we will be offering up various projects both current and long gone. If you have any problems downloading anything, please complain here.
Thanks for coming!
Friday March 19, 2010
Holy Pontius Pilate, we've missed you all. We will respond to all of the obnoxiously eager people out there who have insisted on writing over the last many months as long as none of you email us tomorrow because IT IS MY BIRTHDAY AND I WANT A DAY OFF. You see, we have been busy preparing a very intensive package for our newest release, Animal Names' _Let It Been_. Only 6000 have been pressed on 3D Blu-ray 24" diamond records with handwritten lyrics by Brad painstakingly inserted inside each copy. We only have 97 left after The Home Shopping Channel segment so please, act fast. We are also legally obligated to correct something from the broadcast: the covers are all hand painted by young relatives of the band, not the original artist.
Animal Names broke up at some point between the middle of August and today so we're only putting this album out digitally after the initial exclusive 6000 '3D Blu-ray 24" diamond record with handwritten lyrics by Brad painstakingly inserted inside each copy' run. May 4th is the day because that's Star Wars Day. You may have noticed that the title of the album has changed since our last update and a song is missing. I will give you a hint: Look for the greatest hits package _The Man Whose Teeth Were All Exactly Alike_ featuring a new-never-before-heard-classic-from-the-golden-years, one crappy old song and a cover of "Why Don't We Do It In The Road" wherever copies of the ultra-rare alternate cover (ft. Tom holding Norton beside Melissa, see below.) of _Let It Been_ (with computer typed lyrics by Bart proofread by Bart too) can be found (limited to 6000 copies, 12 per customer).
In other news, Andy Dixon has still not started doing any vocals for the next release in our pipeline, Gravy Control's _Old Fruit_ (title also subject to change if a greatest hits package can be assembled). GET IT TOGETHER MAN, THIS RECORD IS SOLID GOLD.
Thank you for stopping by. Remember, no emails tomorrow. Thank you.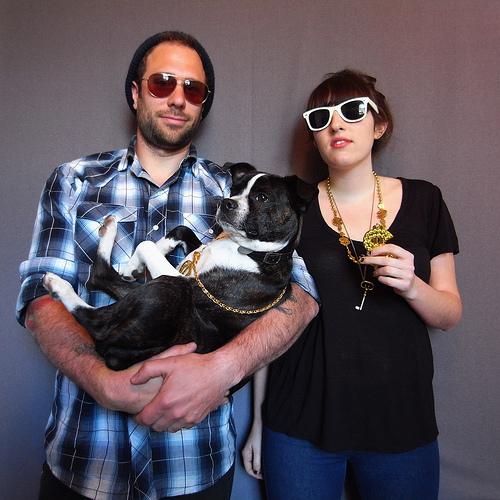 Tuesday July 7, 2009
Today is the official release date for our first release, Animal Names' Oh Yes You Better Do EP. It is available for download now at itunes, lala, and amazon or you can purchase the actual CD from our store. Week-long parties have been going on since last Wednesday in Vancouver, Seattle, Calgary, New York and Athens in honor of this monumentus event. The planned pay-per-view extravaganza didn't materialize due to talks between us and Shaw Cable failing but hopefully MTV Canada will pick up the 6 hour mini-series of abridged highlights. If you weren't on the VIP list for these parties, you didn't get a grab bag which means you still need the EP. Fear not, my warehouse/living room is stocked so order away.
In other news, our next two releases are shaping up though it's hard to say what will be released first:
Gravy Control, Baby Control's maimed and crippled remains, are preparing a full-length entitled Slim Fathers. Like the Baby Control full-length, this one was recorded in their practise space. Unlike the Baby Control album, this one was recorded for free (Best War cost $47 but try not to let that scare you away). Zoe has gone the Neil Young route and set up her Canadian flag permanently in America but luckily Andy Dixon, the only person the band actually owes money to, has agreed to start singing in a bid to recoup his losses. Just joking. He's really going to be singing though.
Animal Names will be recording a new full-lenth, The Man Whose Teeth Were All Exactly Alike, next month with Shawn Cole. Barring any dropping-of-the-ball while recording, this new album should have 15 two and a half minute pop jams full of the typical nonsensical and pseudo-earnest musings.
There will hopefully be more releases in the near future to tell you about but first I must attempt to recruit some friends to help me with this thing.
Friday May 8, 2009
Hello internet, welcome to our very own tiny version of you.
The biggest piece of news we'd like to share today is that we are wholly incompetent and can't make a website if our lives depended on it. This will be a slow process, we ask for your patience and understand that you're only laughing at us because we're so awful at so many things.
The other piece of news we'd like to impart is that Boat Dreams From The Hill's first release will be our one and only foray into the dead format of the compact disc. Oh Yes You Better Do, a seven song EP by Vancouver's Animal Names, will "drop" July 7th. Animal Names once had a manager and she told them no one releases things in July but we're proving her wrong by simply just doing it. Of course we don't (yet??) have distribution so release dates really mean nothing to a label of our stature but it's just a little something that helps us maintain our dignity so please give us this one thing.
Thanks for visiting, please offer up your grammatical critiques here.